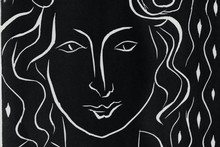 A show in Brisbane of 300 Matisse drawings reveals a dazzling display of technique. Adam Gifford reports
Strip away the colours, saturated and pulsing, look past the flat plane of the pictorial surface, and you come back to the line, a single line that pulses and sings, turning everything into rhythm and light.
There have been many shows highlighting aspects of Henri Matisse, butDrawing Life at Queensland's Gallery of Modern Art is the first to focus just on works on paper - drawings, prints and stencils.
The idea came from the painter's grandson Claude Duthuit after the Brisbane gallery organised a major show of Matisse paintings in 1995. Duthuit died last May, but was instrumental in getting many of the loans for the show.
Since the 17th century, French law has required that not only a copy of every book published be put in the national library, but a copy of every print edition as well. That means the Bibliotheque Nationale has more than 14 million items, including significant collections of the major French artists.
Add to that holdings from other French galleries and collections, North American and Australian galleries, and the Hermitage in St Petersburg to which his last model and companion, Lydia Delectorskaya, donated works, and you have a comprehensive overview of this aspect of his work.
In an era when making art can be reduced to writing up the specifications for a giant plastic bunny, putting on a show of over 300 drawings could be seen as radical.
Matisse drew with whatever was in his hand - pencil, charcoal, steel etching needle, lithograph crayon, brush dipped in India ink or the scissors used for the late stencils.
It's a show that rewards close study. While there are a few paintings to give a touch of colour to rooms and put particular drawing sequences in context, most of the show is small black-and-white works.
It starts with drawings, laboriously rendered charcoals in the classical style, describing the form and volume of the models.
What stands out is their ordinariness. There is no obvious sign of the genius that would come thousands of drawings later.
Hints of it, though, can be seen in the more experimental "autoportrait" from 1900, where a single line charged with character shows the artist standing with a sketch pad, perhaps looking in a mirror.
By this time Matisse was in his early 30s but still feeling his way.
After quitting a nascent law career, he studied in the studio of Gustave Moreau, who urged his students to not just copy the old masters in the museums, but to draw in the streets.
As Matisse said later: "We were trying to draw the silhouettes of passersby, to discipline our line. We were forcing ourselves to discover Sleeping Model, 1935 (facing page), Private Collection; Figure in a Peignoir, 1929 (upper left), Virgin and Child Against a Starry Background 1950-51 (lower left), Spring 1938 (centre), Portrait of Claude D, 1946 (above), all Bibliotheque Nationale de France, Paris.
quickly what was characteristic in a gesture, in an attitude. Didn't Delacroix say: 'One should be able to draw a man falling from the sixth floor'?"
It was a time of discovery. Exposure to works by van Gogh, Gauguin and Cezanne came not through visiting museums, but by being introduced to the dealers and collectors who held their work.
Processing the innovations of those artists, the Impressionists, Japanese prints and the landscape around him, Matisse came up with the expressively brushed and colour-driven paintings that were dubbed Fauvism - after fauves, wild beasts - when they were first shown in 1905.
Fauvism is generally considered the first Modernist movement, but it was a movement without a manifesto, and Matisse was not an artist who needed a movement to thrive.
Drawing Life includes early Fauvist watercolours done around the bustling fishing town of Collioure in southeast France. It was here that Matisse abandoned the neo-Impressionist technique of divisionism, which tried to capture the effects of light by laying down close-knit dots of pure colour. Instead he divided his compositions into coloured planes.
For the nude, a constant element in his work, "I go into the woods in the mountains with my wife at six o'clock in the mornings and she poses for me undisturbed".
Around this period, Matisse produced three woodblocks after seeing Daniel de Monfried's collection of Gauguin paintings, sculptures and prints. The results are bold and expressive, but Matisse did not persist with the technique because he found it painstakingly slow.
What did appeal was various etching techniques, where he could draw straight on to a plate at speed, capturing a face or figure in a few lines.
Later on he would take up linocutting, which he saw not as a cheap substitute for a woodblock but a method with its own expressive characteristics, as the engraver changes the pressure on the gouge.
Matisse made significant contributions to the evolution of the artist's book, and Drawing Life includes many examples, including a lithograph edition of Baudelaire's Fleurs du Mal, of which only five copies were printed because of a problem with the plates.
Odalisques and arabesques, figures in interiors and figures in nature, Matisse would produce dozens of variations as he drilled into his arms and shoulders the rhythms that would come through in the paintings. Spontaneity takes practice.
Sometimes he would take a break from a painting to dash off a drawing, a quick release of tension. Other times drawing would be all-encompassing as he worked his way through series, often treating them as a game with variations. Lydia Deletorskaya describes how Matisse would go into a trance while producing a drawing.
After rooms full of black lines, Drawing Life builds to a big finish.
First there is a room devoted to the Chapel of the Rosary at Venice, done between 1946 and 1951 at the behest of one of his former nurses, Monique Bourgeois, who became a Dominican nun.
As the culmination of his life's work, the secular Matisse considered it an art piece for which he designed everything, from the shape of the building to the stained-glass windows to the priests' vestments.
While this was going on, he was also producing paper cutouts and drawing with thick brushes dipped in Indian ink. These drawn interiors, still lives and portraits seem to generate light.
Visitors to the initial show at the reopened Auckland City Art Gallery would be familiar with the Jazz stencil series from the Robertson Promised Gift. The set in Brisbane is displayed as a block of colour and shape.
Discovering a new technique late in life and turning it into an aesthetic gave Matisse a new burst of creative energy, despite his fading physical powers, and allowed him to create even larger works. What started as a patch to cover a stain on the wallpaper in his Paris apartment became the two Oceania panels, drawing on memories of his 1930 trip to Tahiti. It's a spectacular end to the show.
Curators Celine Chica-Castex from the Bibliotheque Nationale de France and Emilie Ovaere-Corthay say it was a special show to put together.
"Drawing was the most important medium he used all his life. It underlies all his other work. In the paintings we chose for the exhibition, he drew also," Ovaere-Corthay says.
"The drawings and prints bring us to the intimacy of the artist," says Chica-Castex. "We had the impression when we were doing this exhibition to be like members of the family, and also to be with him."
Henri-Emile-Benoit Matisse
French artist (1869-1954) renowned for his revolutionary fluid technique; labelled early in his career as a Fauve (wild beast), he was later applauded for his interest in the classical traditions of French painting and expressive use of colour. He described painting as "a kind of paradise" and was deeply influenced by the works of van Gogh, J.M.W. Turner and Cezanne. When he became wheelchair-bound in 1941, he started making works using cut paper collages. "Matisse" makes an appearance in the Woody Allen film Midnight in Paris.
Exhibition
What: Matisse: Drawing Life
Where and when: Queensland Gallery of Modern Art, Brisbane, to March 4
Adam Gifford travelled to Brisbane courtesy of Tourism Queensland.